There are already enough stressors in daily life without adding a broken or untrustworthy appliance into the mix. If a piece of your household equipment is not operating the way it was meant to, contact the technicians at Appliance Medic today. We are Rockland County and Bergen County's one-stop source for appliance repair needs of all kinds. Whether you require major appliance repair services or just want to resolve a minor nuisance, we will provide you with effective solutions. 
Established in 1999, Appliance Medic is a family-owned company with one goal: to help local property owners experience the full potential of their homes by providing prompt, dependable appliance repair services. Our technicians are all factory-trained and insured, and we have more than 14 years of training and experience under our belts. We would be honored to put our skills and knowledge to work for you. Call us in for help with overheating ovens, leaking dishwashers, broken dryers, and more.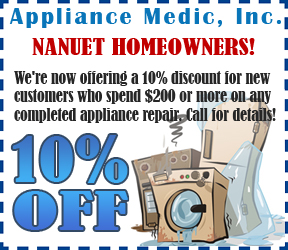 Appliance Medic provides appliance repair services for various types of units from brands like Samsung, Viking, LG, Whirlpool, Bosch, Thermador, KitchenAid, GE, and more. We can repair:
Gas and electric stoves and ranges
Microwaves
Single- and double-wall ovens
Gas and electric cooktops
Trash compactors
Vent hoods                  
Refrigerators
Washing machines
Dryers
Ice makers
Dishwashers
Instant hot water heaters
When their appliances are acting up, many people choose to put off repair, deeming it a chore that can wait for another day. What they don't realize is that putting off appliance repair services can affect a lot more than just their daily routines. Consider the following:
Energy use—Sometimes when an appliance is damaged or wasn't properly installed, it can drain excessive amounts of power from your utilities without giving you corresponding performance results. So basically, you could be paying top dollar to operate an appliance that is running at far less than full power. Not only does this dramatically increase your energy bills; it also means that you're wasting copious amounts of energy every second that your appliance is in use.
Property damage—Every appliance repair need is different, but they all threaten to have some kind of negative effect on your property. Some cause undue stress and deterioration on your building's infrastructure via problems such as excessive shaking or leaking. Sometimes, the damage could come in the form of poor performance, such as a faulty oven burning a meal or having clothes ruined to due to a broken dryer or washer. When left untreated, your machine itself could even become irreparably damaged.
Safety—Often, broken appliances come with serious safety risks, such as gas leaks and fire hazards. If you have any reason to suspect that your appliance is unsafe, contact an appliance repair services technician right away to prevent serious safety risks.
Some homeowners who are unhappy with their appliance's performance consider purchasing a replacement unit. If you're concerned about cost, you may want to reconsider. Although there are exceptions, even major appliance repair is usually less costly than buying a new unit, and on top of that, it tends to yield faster results. When you contact Appliance Medic, we will even provide you with a free service estimate so you can make a fully informed decision.
Our factory-trained and insured technicians are available via phone and e-mail. If you have any questions at all about our appliance repair services, please don't hesitate to get in touch with us. It is our ongoing mission to provide Bergen- and Rockland-area homeowners with superior craftsmanship and speedy, reliable results.