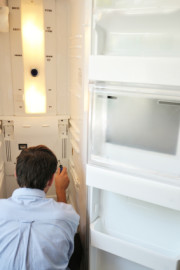 It's always important to seek prompt attention from a professional when an appliance is acting up, but this is never more crucial than when you're contending with a malfunctioning refrigerator. Unlike dishwashers and laundry room appliances, which are not absolute necessities, the refrigerator is a vital part of practically every modern home. After all, it is in use continuously, keeping food fresh, delicious, and safe. When these machines break down, homeowners are at risk for a significant amount of spoilage if they don't seek the attention of a refrigerator repair professional immediately.
Since 1999, the team at Appliance Medic has been providing customers throughout Rockland and Bergen counties with long-lasting, trustworthy fridge repairs. From Sub-Zero refrigerator repair to GE service, we offer the solutions you need to get your appliance back to top working condition. In addition to amazing workmanship, all of our customers enjoy reasonable rates and service from friendly, informative staff members with more than 14 years of training and direct refrigerator repair experience. We are reachable via both e-mail and telephone, so if you're interested in fixing or maintaining your unit, please don't hesitate to drop us a line. We've handled refrigeration repair projects of all types and never use anything but the finest refrigerator repair parts and methods.
Just because your unit hasn't stopped running completely doesn't mean that you're not a candidate for refrigerator repair service. Other symptoms, such as inadequate cooling, too much cooling, and leaking could also be indicative of serious operational flaws. Calling for refrigerators repair service to correct of these issues is a great way to catch a relatively minor problem before it develops into a more severe one, and it is an important part of appliance maintenance. Just paying attention to your fridge's habits and seeking guidance when you suspect trouble could increase your unit's longevity and provide you with better service all around.
Proper diagnosis is vital when performing refrigeration repairs. After all, every symptom has multiple possible underlying causes. If you want to have the problem correctly identified and treated, calling a professional refrigeration repair technician is essential. Remember, any dissatisfaction with your refrigerator's performance is worth investigating. You never know when something seemingly small, like a strange sound, could be an outward sign of a larger issue.
At Appliance Medic, we are proud of our attention to detail and concentration on customer relations, but we also take pride in our versatility. We are comfortable working with fridge makes and models of all kinds and are also available to work on specific unit features, including providing refrigerator freezer repair and refrigerator ice maker repair. Whether you're looking for a technician who is well-versed in Maytag refrigerator repair or GE refrigerator repair, you can trust the team at Appliance Medic.
If you want to enjoy flawless service from your unit but don't want to have to pay exorbitant prices, remember that refrigerator repairs are almost always more affordable than replacing your unit entirely. Appliance Medic strives to keep rates low and is able to provide our customers with free estimates so you can make an informed decision on how to remedy your refrigerator troubles. We even offer various warranties on labor and refrigerator repair parts. If a malfunctioning or inoperative refrigerator has been making your life more difficult, please don't hesitate to seek solutions from our craftsmen. We bring our passion for our work and respect for our customers to each and every job.