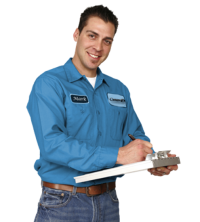 Your household appliances aren't simply objects of convenience—they play an integral role in your home's routine operations. We depend on our appliances every day to assist us with the simplest of actions, such as preparing food or washing clothes. Appliance Medic realizes how important your appliances are to you and is committed to providing excellent service to each and every customer. Contact us today for refrigerator repair, dryer repair, and other major appliance repair services.
Although there are many appliance repair companies around that offer similar services, none of them can match Appliance Medic in three vital areas: craftsmanship, customer service, and price. Our appliance repair technicians have more than 14 years of experience in the industry, and we understand that how we treat you, our valued customer, is just as important as the treatment we give your ailing appliance. We also strive to offer our personalized care and durable solutions at reasonable, affordable rates. Services like refrigerator repair and dishwasher repair shouldn't be a gamble or a headache—if you want reliable results from technicians who have your best interests in mind, e-mail or call us to set up an appointment or to receive your free estimate.
Other appliance repair providers never bother to update or expand their education after they start out in the industry. Not Appliance Medic—we make it a point to stay current on all of the latest trends and techniques so we can be sure to provide you with the most efficient, robust repairs available. Our appliance repair services team is factory-trained and specializes in a number of brands, including Wolf, Subzero, Miele, Kenmore, and Peerless-Premier. We are also available to perform appliance repairs on other makes and models, such as:
Admiral
Amana
Best Hoods
Bosch
Caloric
Dynasty
Estate
Frigidaire
Gaggenau
GE (General Electric)
Fisher Paykel
Hotpoint
Thermador
Haier
Jenn-Air
Kitchenaid
LG
Magic Chef
Maytag
Miele
Monogram
Roper
Samsung
Tappan
Whirlpool
And more!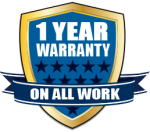 Microwave Repair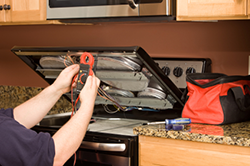 Many people don't consider microwaves to be major appliances, but consider how often your microwave is used. From heating leftovers to zapping a prepackaged meal, microwaves help us out an awful lot. However, when your countertop or over-the-range microwave starts to give you trouble, it quickly changes from a useful tool into a burden. Contact us today if you require microwave repair to restore convenience to your kitchen.
Although they are small, microwaves are just as complicated as any large appliance. Switches, latches, wires, and other hardware all work together to ensure that the turntable spins, the timers are accurate, and the heating mechanism is functioning properly. When just one element of this system is slightly off, the results could be anything from a malfunctioning microwave to one that doesn't even turn on. Our microwave repair technicians will use the same tried-and-true approach that we use on any ailing appliance: troubleshooting, diagnosis, and professional treatment to solve your problem. Let us help you with GE microwave repair, Sharp microwave repair, and more.
Garbage Disposal Repair
Homeowners that are lucky enough to have a garbage disposal know how useful they can be in reducing your trash load. They help make kitchen maintenance quicker and simpler and are very useful for keeping waste out of your trash can. Sometimes, though, these handy appliances sustain enough damage or wear to render them difficult or impossible to use. The garbage disposal repair professionals at Appliance Medic are available to solve issues of all types, from plumbing problems to electrical difficulties to part replacement. If your unit is having trouble grinding or has taken to shooting debris across the kitchen when turned on, don't just avoid the issue—let the garbage disposal repair specialists at Appliance Medic have a look. The culprit could be something as simple as a clog, a broken flywheel, or another easily treatable problem.
Whether you need dishwasher repair, dryer repair, or any other major appliance repair services, you can expect individualized service from our family-owned appliance repair company. We offer warranties on both labor and parts and are fully insured. E-mail or call us today to learn more!