Appliance Medic is the area's one-stop shop for appliance repairs of all kinds, and we're even available to repair Samsung appliances. One of the more high-end and exclusive brands on the market, Samsung often presents homeowners with problems due to the fact that parts are hard to come by and very few appliance repair technicians are trained to handle these models. But at Appliance Medic, our repairmen have been specifically trained to work on Samsung refrigerators, washing machines, dryers, dishwashers, and more. When it comes to Samsung appliances, we're the name to know in Rockland County, Bergen County, and beyond.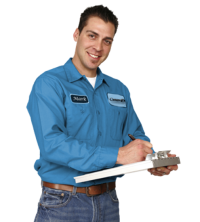 With over 14 years of experience in the home appliance repair trade, Appliance Medic is the area's top answer for genuine workmanship and customer service. Our primary goal is to help local homeowners with all of their appliance-related woes, which is why we decided to specialize in working with Samsung appliances. Other appliance repair service companies might attempt to repair Samsung refrigerators, dishwashers, or microwaves, but without the proper training, a misdiagnosis of your appliance's problem is highly likely. So if you're looking for Samsung appliance repairs, don't settle for anything less than genuine expertise: call Appliance Medic today.
We want to make certain that all of our neighbors in the region are able to access affordable, expert-level Samsung appliances repair. That's why we strive to keep our prices low without ever cutting corners or taking shortcuts. Furthermore, we offer 90-day warranty on parts and a 30-day warranty on labor. We have the special tools required to fix Samsung refrigerators, ranges, dryers, and more, so get in touch with us today for your free estimate!