At Appliance Medic, we specialize in fridge repair services for some of the industry's most elite brands, including Sub-Zero refrigerator repair. That's great news for you and your kitchen upkeep. If you're experiencing Sub-Zero refrigerator problems in your Rockland County or Bergen County home, don't hesitate to contact our factory-trained technicians for superb workmanship at down-to-earth rates. With our 14 years of firsthand experience, we're your best bet for precise, professional Sub-Zero refrigerator service. Contact us today over the phone or online!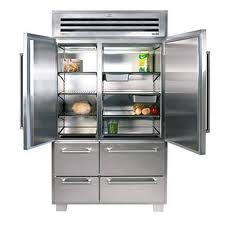 Replacing a Sub-Zero appliance is no small expense. Before you even consider purchasing a new unit, bring in the Sub-Zero repair specialists from Appliance Medic. We're the economical choice for Sub-Zero fridge service. With our in-depth expertise, we're able to repair Sub-Zero refrigerator issues of all kinds and magnitudes, including:
Refrigerator not cooling
Cooling too much
Frost accumulation
Water leaks
Clogged drains
Unusual noises
Faulty lights
And more!
As refrigeration appliances have advanced over the years, the team at Appliance Medic has worked hard to stay on top of the changes. That's what sets our fridge repair pros apart. When you want technicians who have ample training and have dealt directly with Sub-Zero refrigerator problems, you want our local refrigerator repair company. We've been handling Sub-Zero refrigerator repairs since 1999. Today, we're proud to be your area source for expert, affordable Sub-Zero repairs.
Free Estimates on Sub-Zero Repairs
For homeowners, cost is always a concern when an appliance breaks down. Luckily, Appliance Medic offers free estimates on our Sub-Zero refrigerator repairs. That way, you don't have to worry about unexpected charges or inflated fees when you're having Sub-Zero refrigerator problems. Before we begin any type of refrigerator repair service, we'll diagnose the damage and give you an upfront price quote at no charge.
If your Sub-Zero refrigerator is not cooling or behaving the way it should, don't put off necessary fridge repairs any longer. Call Appliance Medic now!