Washing machines are one of the most used—and most complicated—appliances found in the modern home. Every time you wash a load of laundry, an intricate system of dials, valves, and switches is hard at work doing everything from regulating the water temperature to controlling the length of your wash cycles. If any element in this delicate balance is awry, serious problems such as draining and filling difficulties, electrical problems, and other potentially serious issues can crop up. In fact, with so many different settings and variables on a standard washer, it's amazing that washing machines repair isn't required more often to maintain quality service.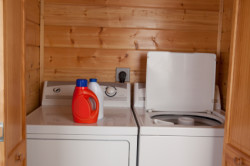 While washing machines are typically reliable, a number of factors, including advanced age, damage, or poor initial installation can all cause your unit to require the occasional repair or adjustment. If you live in Bergen or Rockland counties, Appliance Medic is the natural choice if you're interested in long-lasting, affordable washing machine repairs. Since 1999, we've pleased countless customers with our friendly service and effective washer and dryer repair strategies. Contact us immediately if you've noticed unsatisfactory performance or strange behaviors from your appliance. We have more than 14 years of direct washing machine repair training and experience and can handle problems of all varieties and magnitudes, including:
Inoperative water pumps
Blocked drains
Damaged lid switches
Faulty float switches
Malfunctioning timers
Out-of-order motors
Faulty water inlet valves
Defective belts and pulleys
While all washing machines perform the same basic functions, every make and model is built a little bit differently. Appliance Medic works on all major brands, so contact us today for services like GE washing machine repair, Maytag washing machine repair, and even stacked washer-dryer repair. Although some problems require more complex solutions than others, all washer-dryer repair projects are equally important to our team. Whether you want to stop leaks or want to determine why your unit will not drain, you can expect the same professional approach from our washing machines repair professionals. We will begin by listening to you describe the symptoms you've noticed and troubleshooting your appliance to search for possible explanations for the problematic behavior. Once we've located the source of your trouble, we will implement the proper washing machine repairs using only the best tools, techniques, and materials. Remember, washing machines repairs are almost always less costly than purchasing a new unit, so if you're unhappy with your service, affordable relief could be just a phone call away.
Appliance Medic doesn't consider a washing machine repair job to be a success unless our customer is 100% satisfied with the outcome of the project. Call us today, or send us an e-mail if you have any reason to believe that your household could benefit from professional washing machine repairs. You can rely on us for correct diagnosis, quality customer service, and dependable results—and all at a price that won't break the bank.