Placing your dishes into a machine and pressing the "on" button beats having to scrub your way through a stack of dirty dishes any day. Unfortunately, many people don't receive the service they should from their dishwashers. This isn't because dishwashers are untrustworthy. On the contrary, it has been proven that properly operating dishwashers actually are more effective at cleaning and sanitizing dishes and are able to do so using far less energy and water than the sink-and-elbow-grease method. Rather, unsatisfactory results from dishwashers are more often the result of some sort of internal damage or wear.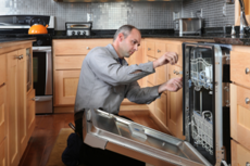 If you live in Bergen County, NJ, or Rockland County, NY, and are the owner of a dysfunctional or broken dishwasher, Appliance Medic is available to make an accurate diagnosis and provide reliable, long-lasting dishwasher repairs—not just a quick fix. Our dishwasher repair professionals can address problems of all magnitudes, from electrical issues to dishwasher rack repair. We use nothing less than the very best parts and tools available to treat your machine.
Since opening for business in 1999, our dishwasher repair team has handled a wide variety of malfunctions. Call or e-mail us if you've noticed that your machine is:
Leaking
Not filling
Not draining
Not attaining proper water temperature
Releasing bad odors
Not turning on
Not getting dishes cleaned
These symptoms could have countless sources. Whether the culprit is a faulty float switch, plumbing problems, or a need for dishwasher rack repair, you can count on Appliance Medic to successfully pinpoint the cause and implement a reliable solution that will be able to put up with the demands of daily use. We are available to work on various brands, so contact us today for Bosch dishwasher repair, KitchenAid dishwasher repair, and more.
Many people choose to forgo dishwashers repair and instead replace their unit. The fact is that the only thing separating your current dishwasher from one that just came from the department store could be a simple faulty part. Why spend exponentially more money on a new machine when calling a dishwasher repairs specialist will yield the same results for a fraction of the price? If you're interested in having more than 14 years of dishwashers repair experience working for you, please don't hesitate to call or write to us by e-mail. One of our representatives will provide you with any information you'd like to know about our company policies and procedures, and our technicians can even provide a free dishwasher repair estimate based on the unit and the symptoms you describe. Our customers are important to us, which is why we could never dream of cutting corners just to save time or signing off on a job that we were not confident about. Only the best service is good enough for our customers, and that means professional workmanship, amazing value, and technicians that will treat you and your property with complete respect. Appliance Medic—it's the name to know for quality dishwasher repair in Bergen and Rockland counties and environs.